Westfield Century City in Los Angeles, CA – Fox Films studios acquired the property in 1928. Following the creation of 20th Century-Fox in 1935, the studio became the site for such film classics as The Grapes of Wrath, A Tree Grows in Brooklyn, and Miracle on 34th Street. When the Century City center opened in 1964, it set a new standard for shopping as one of the original malls in Los Angeles. The Broadway was the center's first major department store and an expansion in 1976 brought in the upscale Bullock's, as well as additional shops.
The next major renovation in 1987 transformed the northwest corner of the center into a food court named the Marketplace. The redevelopment also introduced one of the largest movie complexes in the U.S, the AMC Century City 14. In 1996, The Broadway was converted into a Bloomingdale's and Bullock's became a Macy's.
Westfield acquired the shopping center in 2002 and completed a $170 million revitalization in 2006. The old Marketplace and movie theaters were converted into new luxury boutiques, a flagship AMC/IMAX theater, an expanded Gelson's gourmet grocer and the exquisite Dining Terrace, offering an indoor/outdoor express dining experience.
As part of its continuing evolution, Westfield Century City aims to redefine modern living and shopping in Los Angeles. The New Century Plan envisions additional premium specialty shops and dining options, increased parking, and a new central plaza. The environmentally conscious design creates more open green space and enhancements to the streetscape with lush new landscaping and pedestrian-friendly walkways. A key feature of the revitalization will offer new luxury high-rise homes with spectacular views, providing residents with comfortable living and the convenience of easy access to premier shopping, dining and office space.
Each year, over 10 million guests visit Westfield Century City. The one million square-foot, open-air venue offers more than 100 specialty shops including Bloomingdale's and Macy's. The outstanding boutiques, restaurant selections and flagship AMC IMAX Cinema fulfill Westfield Century City's promise as the center of choice for sophisticated shopping, dining and entertainment in Los Angeles.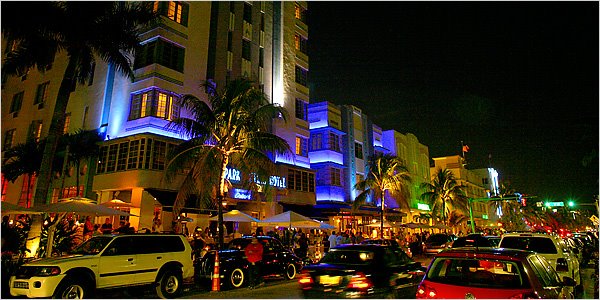 Ocean Drive in Miami Beach, FL – With a fashion shoot around every corner, Ocean Drive is the capital of cool. What's hot and what's not gets decided daily on the sexy, sun-soaked streets of South Beach. Ocean Drive boutiques sport funky, youthful fashions and unique accessories that appeal to the toned, beautiful bodies who populate this ultra-fashionable corner of the universe.
Big-name designers like Armani, Versace, Nicole Miller, Tommy Hilfiger and Kenneth Cole have all set up shop here, catering to Miami Beach's hip vibe with their super chic decors and A-list service.
Download FastMall 3.0 for iPhone or iPod Touch FREE – http://getap.ps/fastmall